LINKS:
- Armada
- Frontier
- Pathfinder
- Titan
- Xterra
- Classics
- Join Us!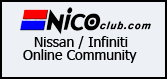 Vegas to Reno 600
with Team Xterra Racing
Vegas 2 Reno – The longest offroad race in the United States, 565 long miles to be exact. 79 of the 149 trucks / buggies would finish the challenge, the XterraRacer completes the task in just over 21 hours! The conditions would change from hot desert sun to high altitude passes in the dark. Thanks to the sponsors and their great equipment the X would run flawlessly with minor wear and tear. The driver and co-drivers would swap out 3 different times in order to keep their sanity and take the vehicle past the checkered flag.

The day started off with challenges that would have made any ordinary team call it quits. Heading out to the start, located 75 miles to the west of Las Vegas in a town named Johnnie, the tow vehicle and trailer would suffer 2 blow outs. Arriving to the start after all of the 3100 (stock mini SUV) had long since departed the Team unloaded and placed their faith in the Yellow truck that had been prepared and
| | |
| --- | --- |
| calibrated for this type of endurance race. Seconds later, the X was on its way and racing the Team to Pit 1. And so the day started and continued with no incidents other than hydrating the driver and co-driver. A flat tire changed out in the open would be the only down time experienced in the day light. By Pit 6 the original duo, Dean and Daryl Blakely, traveled a total of 184 miles and would switch out with Dave Blakely (owner) and Dan Spalinger. This stretch of the | |
race would bring them into the dark – only the best racing lights could illuminate the desert enough, thank you PIAA! Dave would take a perfectly babied machine and continue to press strong, covering the next 100 miles in little over 3 hours. A quick co-driver change and Robert Pinon would be swapped in as the roller coaster ride would make the best out of Dan. Midnight would roll around and the X continued to press strong! Pits would come and go, fallen vehicles along the wayside would remind the Team of the harsh conditions of racing the desert.


| | |
| --- | --- |
| | Into the night and the XterraRacer continued to conquer mile after mile. The impossible was being had – the Nissan would prove tough enough to be competitive and capable. High speed graded roads allowed for speeds upwards of 100mph! Narrow canyons that would create pinch points for Trophy Trucks would be the X's favorite place to rally! The X would pit prior to a long 80 mile section where pitting at the midpoint would be difficult for the pit crew to reach. A splash of gas and a once over and the X was gone into the night. It was |
toward the end of this section, just a mere 8 miles from Pit 14 at Top Gun mm 485, that the X would find itself fighting the worst terrain of the race – sand dunes! Giving it all it had the Team would fight soft sand that had been traversed by nearly a hundred vehicles. On a soft slope, the X would get stuck – landing the frame on the sand. After a quick 30 minutes of downtime, the Team would be successful in freeing the X as dawn was quickly peaking around the corner. Another sand hill but this time with deflated tires and a strong engine, the X made good work and remained strong. Fresh tires and less than 80 miles to the finish line, and the X was still in the race! Silt and rutted roads would make the battle far from over – the sun would quickly start to warm the air and remind the Team of how long they had been running. Another pit stop, but this time Dean would jump back in as Dave was exhausted and spent. Back on the track and working the machine carefully the remaining part of the race would just be an endurance challenge. Finally, after 565 miles of desert racing the host town of the finish line would appear – the mission had been accomplished.

The XterraRacer received a second chance at something it started 1 year prior. This time it went the distance and brought a solid 3rd place in its class. Double points for this race on the line, this race was more than just a finish – it was a commitment by a Team that it could endure the longest offroad race in the United States and prove that the Nissan Xterra of Team Xterra Racing is a true race vehicle.

TXR wishes to thank all of its sponsors that helped make it possible to participate in this race, and in all the Best In the Desert races this year. This includes, but is not limited to: Nissan, Goodyear, Fox Shocks, PIAA, National Springs, DJ Safety, SpeedHut, Evco, XOC, CWI Hosting, LMR, Motografx, Double D Bolt and Champion Motorsports. The Team wishes to thank the Pit Crew, especially the 3 volunteers that drove down from Washington: Don, Jose and Jim.

For a visual representation, visit the Event Image Gallery